More individuality in bathrooms and kitchens
Brand-new. Mixtures with extraordinary effects
With the mineral-based functional fillers of the GRANUCOL® family, Dorfner has set standards for years in the manufacture of kitchen and sanitary products from composite materials. With the GRANUCOL ® Effect Mix, Dorfner adds another particularly attractive product to its portfolio of filler systems. This unique mixture enhances kitchen and sanitary products with extraordinary effects – and also impresses with the typical benefits of GRANUCOL® in terms of resistance, processability and color variety.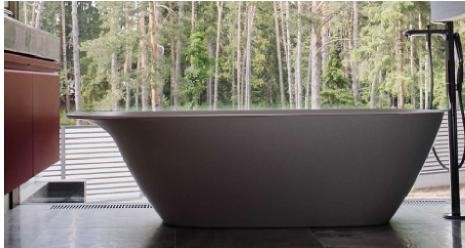 The filler mixture impresses with its innovative coating
GRANUCOL® Effect Mix is a new colored quartz mixture that enables particularly attractive surface designs thanks to its depth effect and color fastness. It is based on the proven GRANUCOL® fillers especiallyfor kitchen sinks and sanitary products. In addition, there is an effect pigment that is firmly integrated into the mixture in an innovative coating process. The result: A surface with metallic shimmering effects with excellent contrast and color brilliance – and high stability at the same time.
The shear-stable effect pigment
The special metallic effect of the filler is based on a unique mineral. Thanks to the special coating process, in contrast to conventional metal effect particles, the particle can be non-destructively integratedinto our mixtures. They are so robust that even high shear energy inputs from mixing screws do not result in any loss of quality.
The advantage: GRANUCOL® Effect Mix is ideal for use in polyester resins such as acrylic resins.






More grain sizes and customized mixtures by request. Variations in the color illustrations are possible.
GRANUCOL® Effect Mix – Completely new design options are possible.