GRANUCOL® HSL doesn´t take it so heavy: the mineral filler offers the easy alternative – through itslow density, the final product is 30% lighter. A particularly low shrinkage, as well as a very high scratch resistance, makes it an ideal basis for bathtubs, shower trays, washbasins and wall panels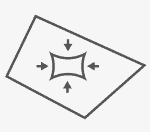 Other colors available on request.
Variations in the color illustrations are possible.